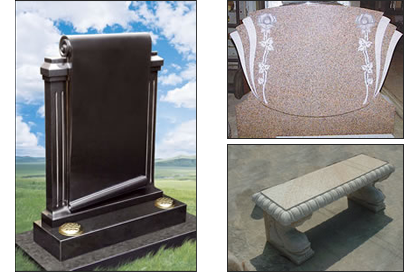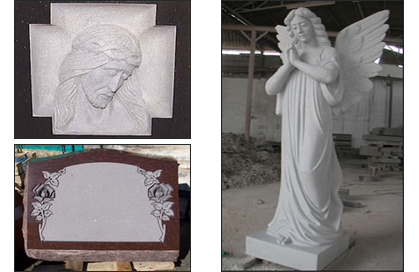 Serving the monument industry with high quality granite memorials since 1991…
Glenrock International, Inc. is a wholesale distributor of granite memorials based in Linden, New Jersey. We serve the retail monument dealers in the Northeastern United States with their requirements of granite monuments; both traditional as well as customized headstones, markers, slants, statues, and benches in several colors and innumerable designs. We also offer high quality sandblasting, etching and carving services.
Granites offered by us include Select Grey, Charcoal Grey, Imperial Pink, Evergreen, Absolute Black, Mahogany, India Red, Strawberry Red, Paradiso, Bahama Blue, Vega Blue, Tropical Green, Red Multicolor, India Impala, Galaxy, Aurora, and Blue Pearl (see link to "Granites").
Our friendly staff, on site warehouse, large inventory, product warranty, and delivery service will ensure that you will be a satisfied and repeat customer. We look forward to providing you with products of the highest level of workmanship at unbeatable prices and excellent customer service.
The benefits of buying from Glenrock International include:
COMPETITIVE PRICES on customized stones and discounts on many in-stock stones
Immediate price quotes and response to product inquiries.
Large inventory of monuments in company warehouse, conveniently located in the metropolitan NY/NJ area.
14 different granite colors in hundreds of designs and sizes to meet all customer needs.
State-of-the-art sculpture and design from China and India's best craftsmen.
Full service sandblast carving and lettering.
Prompt delivery of custom orders within 10-12 weeks of order.
Product Warranty-Repair or replacement of the rare stone that is defective in material or workmanship